It's finally here, a real Original Content(donut steel!) picture drawn by me of the world in which we play our unapologetically audacious troll-playing gayme, Cocoa Fortune!
With my simply astounding prowess with the ultimate tool in digital art creation, Microsoft Paint Windows 10 edition, I've outlined the major countries and landmasses in bone-stripping black and white for those of you who were wondering. Which is probably nobody, so this is actually to clear up any misunderstandings you may have about geographical relations so we don't need to have discussions featuring the phrases "oh but I thought it was ogre there". I must stress that this "map" should only be referred to regarding where things are located in relation to everything else. There's no scale, and everything up to and including the shapes and distances are tentative. So without any further ado, here it is: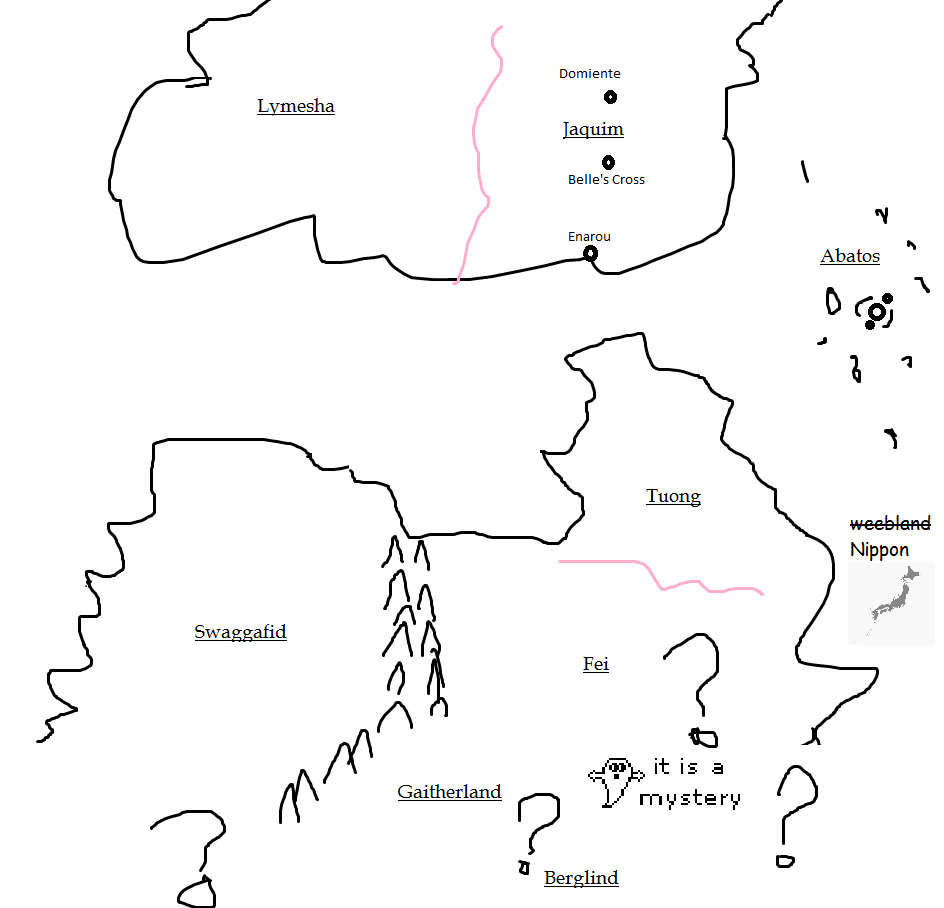 In case it wasn't obvious, the pink lines are just an approximation of national borders. There isn't actually a giant pink squiggle on the ground in those places. Although maybe there really are huge question marks and a gigantic spooky ghost in the southern area. Who knows?
woops I forgot Jaquim's other neighbors, northern continent is all wrong.
I'm confused....but I wish to join in the adventure. Should I create an original character (with no relation to the sonic franchise in any way) and upload him/her for all to see?

kattanakitten

Griefer




When They Cry Master


Posts

: 85


AwesomeSauce

: 6



Sure, but not for all to see. You never know who might be trying to kill you.
Post it in the "silent hippo" section I just opened up for you in the super private business.
Similar topics
---
Permissions in this forum:
You
cannot
reply to topics in this forum