Kara no Kyōkai (空の境界?, lit. Boundary of Emptiness) is a Japanese novel series, authored by Kinoko Nasu and illustrated by Takashi Takeuchi. It is also known under the nickname Rakkyo (らっきょ?). Its subtitle is The Garden of Sinners.
Light Novel
LEGIT GET: Nowhere in English
DL Path: Skraal >> Books >> Light Novels >> Kara no Kyoukai
OVAs
LEGIT GET: Same as above...
DL Path: Skraal >> Anime >> English >> Subtitled >> Kara no Kyoukai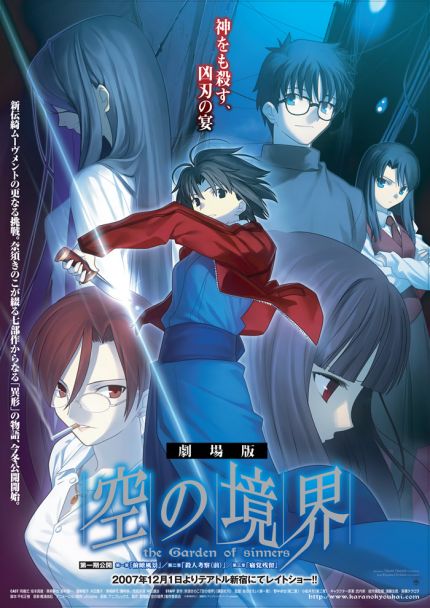 Kara no Kyōkai is set an alternate universe to Tsukihime and Fate/stay night, with many of its characters becoming prototypes to characters in Type-Moon's later works. In particular, Mikiya Kokutō has been described as the prototype for Shiki Tohno, the hero of Tsukihime, who possesses the Mystic Eyes of Death Perception that were first introduced as a characteristic of Kara no Kyōkai's protagonist, Shiki Ryōgi. Other characters have made appearances in other works by Type-Moon. Mikiya Kokutō's employer, Tōko Aozaki, is implied to be the puppet maker in the third Fate/stay night scenario, Heaven's Feel, and she is mentioned as the creator of Shiki Tohno's glasses in Tsukihime, where her younger sister, Aoko, appears. Aoko is also the heroine of Mahōtsukai no Yoru.
As one of Kinoko Nasu's earliest works, it also introduces some of the most fundamental concepts in the universe of Type-Moon's works, including souls, Akasha, Counter Force, Magic and Magecraft, and Origin.
Plot:
Mikiya Kokutō becomes intrigued by the mysterious series of violent deaths occurring in his town and Shiki Ryōgi, a beautiful but unsociable girl. As he tries to become closer to Shiki, he realizes that Shiki is connected to the mysterious deaths and that the supernatural forces involved with both could kill him. It is revealed that in Shiki's family, certain members of her family possess two distinct personalities, both aware and conscious of one another, but possessing different qualities. The dual consciousness, and Shiki's upbringing as a demon hunter, has caused to reject other human beings.
However, upon meeting Mikiya, she gradually finds happiness through their relationship and a schism develops between her two personalities. As a result, she winds up in a traffic accident and is left in a coma for two years. When she awakens, she finds herself unable to connect her past memories to her current identity. Reunited with Mikiya, now employed as an investigator for Tōko Aozaki, Shiki assists Tōko's detective agency, Garan no Dou, whenever combat is required, while struggling to come to terms with her identity.
[Copy pasted from Wikipedia]
Last edited by Skraal on 2011-11-08, 18:18; edited 2 times in total

Skraal

Templar




Nasuverse PhD, When They Cry BS


Posts

: 374


AwesomeSauce

: 19



Do you have translated editions of all 7 or some books?
I'm not sure. The files that I uploaded contain multiple books per PDF, but I don't know it is all of them. I'm pretty sure that they do, but I'll check when I get home.

Skraal

Templar




Nasuverse PhD, When They Cry BS


Posts

: 374


AwesomeSauce

: 19



The PDFs contain all 7 books + side stories, collected into 3 volumes.

Skraal

Templar




Nasuverse PhD, When They Cry BS


Posts

: 374


AwesomeSauce

: 19



---
Permissions in this forum:
You
cannot
reply to topics in this forum