So we had two epic 6 player lan matches on the Big Game Hunters map today and yesterday. Here's the postgame reports:
10/3/2011: Frantic Free For All
ValuePAKII = Felix
nullset12 = sean
AIDS = chuchu
Sweet Bro = mykal
Noitsleh = Me
Birdman = (obvious)
APM Table: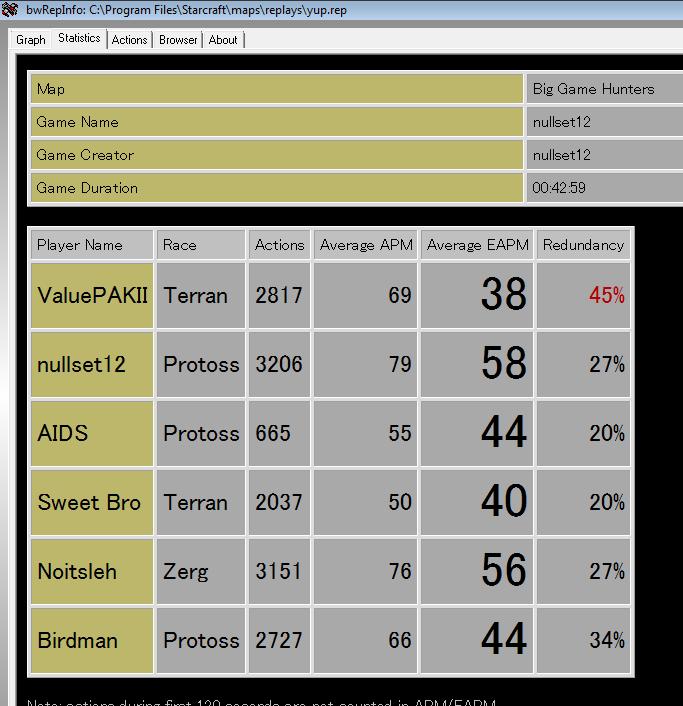 Analysis:
I suspect Nullset beat me in APM probably because he wasn't half dead for most of the match. Essentially from my perspective I blew my initial zerglings harassing michael and then didn't bother to bring up any defense for the next few minutes resulting in almost complete destruction by an early stimmed marine rush by michael. I pretty much spent the rest of the game trying to rebuild in a new location while michael harassed me periodically with wraiths (he was far too kind and compassionate to finish me off
, so I ended with a squad of hydras and mutas). I herd Nullset encountered some epic terran walling on felix's part. Although I survived until the end, I would've lost long ago to more competent opponents, so Birdman won this round. All in all I think free for all is a pretty bad idea besides proving that michael cannot hold by himself. BGH is kind of a team map.
Download replay here: http://adf.ly/3JqNe
10/4/2011: Team match
Team Protoss-
Birdman
nullset12
thenewguy = kevin mei
Team Racial Diversity-
AIDS
Sweet Bro
Noitsleh
====APM Table===
Analysis:
kevin chu literally carried us with carriers(TEAM ON MAH BACK). Early game I took the initiative and
created the internet
spit out a good amount of lurkers which I gave everyone a lot of grief with by sitting at their expos and spiking probes. Big lesson to you noobs: Everyone on the team going protoss is a bad idea. This left me pretty well off for mid game because at least one of them would need to obtain observer tech before even trying to attack my base, however many dragoons they had *cough*Nullset dragoonspammer*cough*. None of us were attacked at all, which left chuchu free to tech up and mass some carriers which he moved down to Nullset. I sent in my growing army of mutalisks and we surgically cut Nullset out of the game. We pretty much steamrolled through kevin mei, matt gave us a little trouble with arbiter stasis field but pure attrition netted us the match. A winrar is us.
Download replay here: http://adf.ly/3JqP6
Last edited by Corenat Rovarnus on 2011-10-20, 19:29; edited 1 time in total
No wonder they're called carriers

Kevindakilla

Templar




Nasuverse nub, When They Cry nub


Posts

: 303


AwesomeSauce

: 3



Ah yes. the first game. Me before massing carriers was the way to go. Maybe tomorrow we choose a different map

nullset12

Archon




Nasuverse PhD, When They Cry BS


Posts

: 2041


AwesomeSauce

: 14



And yesterday I teamed with SunnyD and crushed the Nullset-nan-Mei Combine in 2 games out of 3 due to the retardedness of early game bunker rushing.
The first game was lost because of 3 man base ganking, so we returned the favor in the second match with superiority. Nullset was zerg in 3rd, so I put out corsairs and suppressed. GG EZ!
You should've acquiesced his request to switch.
I am disgusted at the BGH replay at the top of this post. What a pitiful APM.

I always get rushed early game ... or macro and win.

nullset12

Archon




Nasuverse PhD, When They Cry BS


Posts

: 2041


AwesomeSauce

: 14



Dude that happens to me too...it sucks being paired with noobs.

nullset12

Archon




Nasuverse PhD, When They Cry BS


Posts

: 2041


AwesomeSauce

: 14



Similar topics
---
Permissions in this forum:
You
cannot
reply to topics in this forum