rawr map fate servants to fortress classes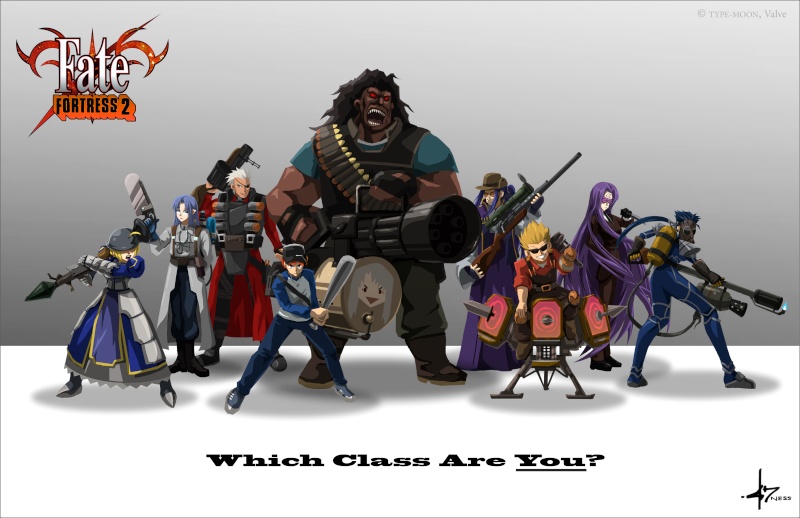 I've been thinking of doing this for a long time, and I don't quite agree with some of this pic's renditions.
What I'm fine with:
1. Berserker as the Heavy(what else could you possibly be thinking of?)
2. Saber as the Soldier(It looks moe)
What feels ok but should still be changed:
1. Archer as Demoman
2. Lancer as Pyro
3. Assassin as Sniper(actually this is fine, Sniper even says he is)
4. Gil as Engineer(Needs a height adjustment, the engineer is not that short, he's just hunched over like kevin chu of notre dame)
what the AMOS is this powerofpoo:
1. Shiro(Replace him with Hasan, trollkastel disapproves)
2. Rider as the Spy(don't get it)
3. Caster as the Medic(I just don't like it)
Post your own complete listings.
Lol theres a picture of Ilya on Beserkers minigun.

M. Ainsel

Executor




Nasuverse Undergrad, When They Cry Undergrad


Posts

: 1051


AwesomeSauce

: 15



@Corenat Rovarnus

wrote:

what the AMOS is this powerofpoo:

1. Shiro(Replace him with Hasan, trollkastel disapproves)
they need a ninth, and Shirou fits the idea better, plus, this n00b probably hasn't read the novel

ZedSlayer

Praetor




Nasuverse BS


Posts

: 1234


AwesomeSauce

: -6



Similar topics
---
Permissions in this forum:
You
cannot
reply to topics in this forum