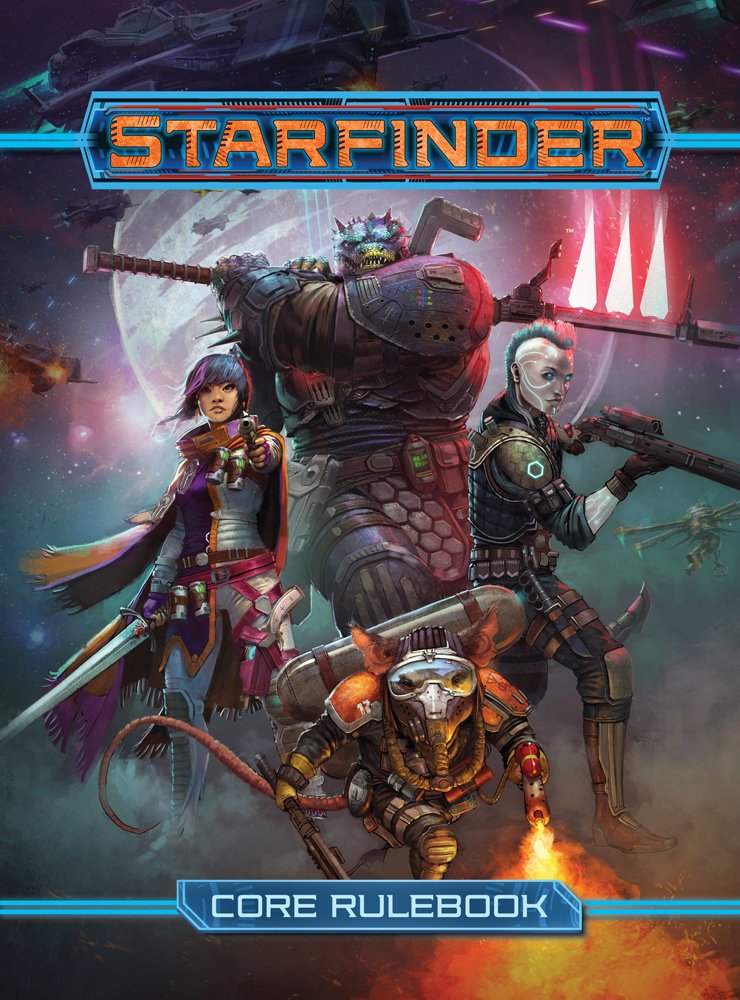 Starfinder is a "new" RPG made by Paizo Publishing where you play as adventurers IN SPACE and fight SPACE monsters. It has both the traditional magic and high technology, integrating them fairly well IMO.
The main races are different, although there are still provisions for playing one of the classic fantasy races.
Ysoki - Rat boyz
Vesk - proud warrior race giant lizards
Kasatha - four armed australian jews
Lashunta - Still dimorphic, just not sexually
Also, you can get a spaceship and do bridge commander.
Main Site & Legit Get: https://paizo.com/starfinder
Plaintext SRD: http://www.starfindersrd.com/
Combat Equipment Master list: https://docs.google.com/spreadsheets/d/19WVld-fxeBo3ev4X0IguCst3TlWpZVDjVA80lXPHMJE/edit#gid=771531491
So it's a game where you play as the Skaven, Lizardmen, Shokan, and elves in space?

If I wanna play a space tabletop, i'll most likely go to the old Star Wars books (specifically the ones where they went into the old republic era) or the new Star Trek adventures coming soon, but good luck to pazio.

kaede

Archon




Nasuverse PhD


Posts

: 3256


AwesomeSauce

: 45



Wow that's harsh, everyone else is gushing over it. Did you not like Pathfinder either?

I'm just putting up the links for reference as the boyz are gonna be doing it soon.
Nah, just don't have a tabletop group anymore sense I moved so I haven't even looked at the book yet...though this does make me wanna play as a skaven in space now, would be interesting to say the least.

kaede

Archon




Nasuverse PhD


Posts

: 3256


AwesomeSauce

: 45



---
Permissions in this forum:
You
cannot
reply to topics in this forum